When the time comes to select what kind of shingles you want to cover your biggest asset, the options can be overwhelming. According to GAF, the roof can represent up to forty percent of your home's curb appeal. This is a large, long-term decision, so choose wisely.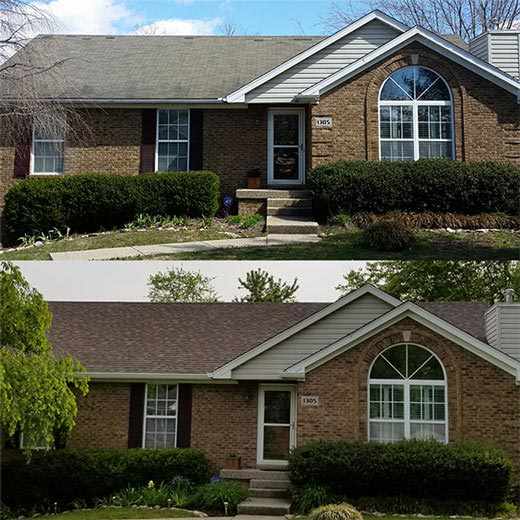 Dimensional and Laminate Shingles
A survey conducted by the National Association of Realtors states you can increase the value of your home by an average of five percent with new dimensional shingles. In fact, we install limited lifetime dimensional shingles on almost every job. They have become the standard due to appearance, durability and cost.
Standard 3-tab Shingles
Classic, traditional look…the old standard. Several color options are available. These shingles lack the wind rating (60 mph instead of 110 mph) and textured appearance of dimensional shingles.
Premium Designer Shingles
If you really want to invest in your roof, our manufacturers produce some very elegant shingles. These shingles more closely represent natural materials like slate and wood shakes. The beauty of designer shingles is unmatched.
How to Pick Colors
You always have the option of going with the same color you currently have "up there." Know with all the options available, we install black more than any other color and white being the only energy efficient shingle. Contrast is very important in color selection, if you have a red / brown brick do not pick a red / brown shingle that matches it perfectly. If you have white brick or siding, the options are multiplied. Shutters and doors can always be changed to match the roof. If your home has white trim, choose a color that compliments the brick or siding. When the trim is a particular color that can limit what shingle choices will go best. If you have brown gutters, you probably need to stay in the brown family with the roof. For example, don't introduce gray shingles to your brown trim. If the home exterior is muted, solid siding or brick color, don't hesitate to get a more vibrant roof. When a house has brick, stone, siding, etc. all incorporated a more subtle shingle will do, not distracting from the home's detail.
In the end, a new roof installed by Christian Brothers Roofing will give your home a makeover that increases value and appeal.