Insurance companies define storm damage as a sudden, instant occurrence. Storm damage is also subjective depending on which dictionary is being used. The absolute only way to determine if your homeowner's insurance is going to cover your damage is to file a claim and have an insurer paid representative inspect the damage.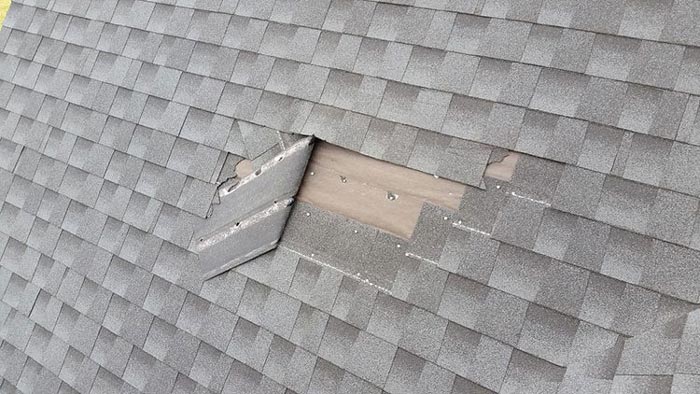 It's Bad!
After a major storm, if your home or neighbor's homes have sustained noticeable damage then it's a no brainer to call your insurance company right away. If shingles and or siding are missing from their designated places and littering your yard, then call the insurer. Occasionally, we get a large hail storm, quarter plus size hail and a lengthy duration. In this instance, video evidence and physical evidence (keep a few pieces of the hail in the freezer) can only help your cause in the end. Call your insurance immediately. By the end of the next day, you will have "storm-chasers" canvassing your neighborhood. That is when it's bad, so do not hesitate to file a claim. "Storm-Chasers" are the companies you have to watch out for. These companies come in town to make a bunch of money and put on roofs just to leave the area when the work is done. Then when you have issues a year later they are no where to be found, so do your research before hiring anyone.
Not that Bad?
Wind damage can occur with gusts as little as 15-20 mph. However, it may only blow off a shingle tab or two. Maybe a loose piece of fascia metal finally came off. We get several storms every year with pea size hail that lasts just a few minutes, not the type that devastates your roof. But enough of these smaller hail storms will have a culminating effect on the shingles. In these cases, several factors need to be identified. How old is the roof? Are potential repairs less than the deductible amount? Will this continue to happen if not fully replaced? Will the insurance company cover repairs or replacement? Unfortunately, the insurer will not send an adjuster to the property unless a claim is filed. They will suggest you have a roofing professional assess your situation. Then you would give us a call to inspect the damage and we will use our experience to assess the situation and give you advice on the next step to take. Once you have our trusted opinion to go ahead and file the claim, there is still no guarantee the insurance is going to cover replacement but they will send out an adjuster to make their own call sometimes leaning on the advice of the professional roofer.
Don't Be Scared
You are paying a premium for your biggest asset. Remember, storm damage is subjective. Insurance companies also differ on the extent to which they pay claims. Some companies are better at paying claims than others. Unless you are a habitual claim filer, your rates will not go up as a result of your claim. Most insurance rates increase as a result of the total number of claims that company paid in a particular area or zone.