TESTIMONIALS FROM SATISFIED ROOFING, GUTTER, AND SHINGLE INSTALLATION CUSTOMERS
See for yourself what customers have said about working with Christian Brothers Roofing. Already worked with us? We'd love to hear from you! Leave us a review about your experience with Christian Brothers Roofing.
"Your crew did an excellent job replacing our roof, from start to finish and follow up, I would highly recommend you to others. Thanks again."
Rob G.
"I had trouble with a quote and pressure to sign with another company. Then I called Gary. From our first conversation, until the final spotless cleanup, Christian Brothers provided exactly what they said they would. A high quality new roof, properly installed. So glad we chose Christian Brothers."
Joe F.
"The new roof looks great! Your crew did an excellent, efficient and very professional job, including a complete clean-up. Thanks for making our experience with Christian Brothers a pleasure."
Jack L.
"I just wanted to thank you for the speedy work that your men did on my house. I've had a lot of people ask me who did the work and I referred you to them. I've noticed people stopping in front of my house and writing down your phone number. Keep up the good work and God bless you."
Nancy S.
"We wish to express our thanks. You just got it done! We do appreciate your help."
Louise H.
"They did a great job and we really like it. We enjoyed doing business with you, and we will pass your name along."
Paula W.
"We would like to extend our appreciation for the great job your crew did replacing our roof. It looks great! The workers were very efficient and everything was left clean. We would highly recommend your company."
Tom & Pam A.
"You and your employees have dealt with us in an honest and courteous manner. We appreciate that immensely. The roofing crew did excellent work and a superb job cleaning up our yard. They were very careful not to disturb mother bird and her two babies, for which we're grateful. Congratulations for making us satisfied customers."
Paul & Geneva R.
"Thank you and your crew! Great clean up job! All of our neighbors were impressed with the speed of the job and the clean up as well!"
Vanessa C.
"Everyone did a great job. I have recommended you already."
Lisa S.
"Thank you for the prompt service and excellent work – especially the clean up! I gladly recommend you to anyone I can."
Tim J.
"The crew you sent to our house was courteous, efficient and did a very good job. Our new roof looks great and we are more than satisfied with it. Thanks again, and should any of our acquaintances ever need a new roof, we would certainly recommend your company."
Bob M.
"Your crew did a great job! They worked extremely hard and performed well under some very difficult conditions. My wife says the new roof looks gorgeous!"
Terry K.
"Thanks for your prompt estimate and roof installation. It is obvious you take pride in your work!"
Lea H.
"I want to say what a great job your men did. They were all nice young men. I was impressed by the way each knew how to do the job. I have already recommended your company and will continue to do so."
Walt D.
"A big thanks for your assistance and the excellent manner in which you handled my roofing needs. You have been most professional and it was a pleasure doing business with your firm."
Nancy W.
"It's nice to know that their are still people that do what they say. They get the work done and do a very good job. I thank you all!"
Joyce H.
They were excellent! Justin was very helpful in deciding which product was best for us. Professional team- they completed the job in one day. They did an excellent clean-up job, and we were pleased with their workmanship.
Gayle W.
Christian Brothers put a new roof on my home a little over 10 years ago and we were quite happy with the work. My son's house needed a new roof just recently. We got a price that beat the competition and they came out quickly and got the job done. Both experiences with them have been excellent.
Kyle P.
My first experience was an insurance claim to replace my roof about twelve years ago and have had them check or fix newer problems in recent years. Just had them out to repair the flashing around my chimney about two weeks ago. They were prompt to come out to evaluate, they gave me more than one choice for cost and level of repair, and had it done in a couple days. I am so impressed. I will never use a different roofing company.
Ron M.
Great experience and really appreciated their help. Definitely care more about helping people and families than making money!
Justin E.
After getting a few estimates we chose Christian Brothers, their honesty upfront is why we decided to go in their direction the process from beginning to end was tremendous Justin was a blessing to work with and the crew who installed did absolutely great! We love our new roof and would recommend Christian brothers over and over again.
Steve W.
I can not say enough about this company. They have done my father in laws roof and now ours. You would barely know they did your roof if it weren't for how good it looks at the end. We did have a concern about something and they were out that same day to take care of it. I would recommend them to anyone that needs to get there roof done.
Derek W.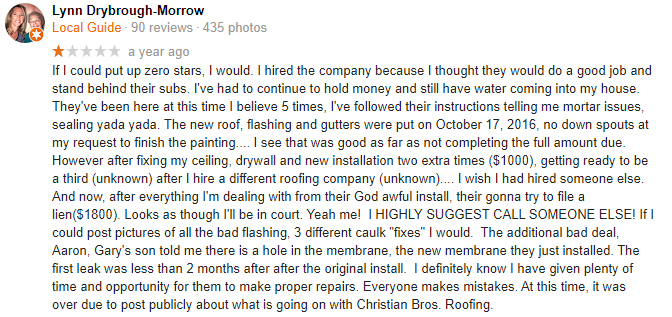 1 / 30


2 / 30


3 / 30


4 / 30


5 / 30


6 / 30


7 / 30


8 / 30


9 / 30


10 / 30


11 / 30


12 / 30


13 / 30


14 / 30


15 / 30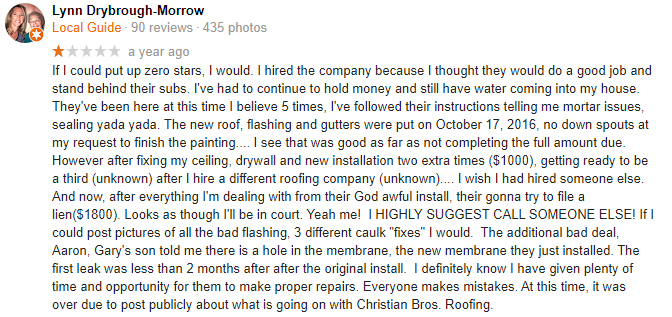 16 / 30


17 / 30


18 / 30


19 / 30


20 / 30


21 / 30


22 / 30


23 / 30


24 / 30


25 / 30


26 / 30

27 / 30


28 / 30


29 / 30


30 / 30
We Look Forward To Serving You!