Get Hail Damage Roof Repair by Certified Experts
When hail has damaged your roof, getting the damage repaired as quickly as possible can help prevent unnecessary expenses and repairs in the future. Hail damage can range from a minor inconvenience to a total roof loss. At Christian Brothers Roofing, we provide professional hail damage roof repair to quickly get the damage under control and get your roof back to its pre-loss condition.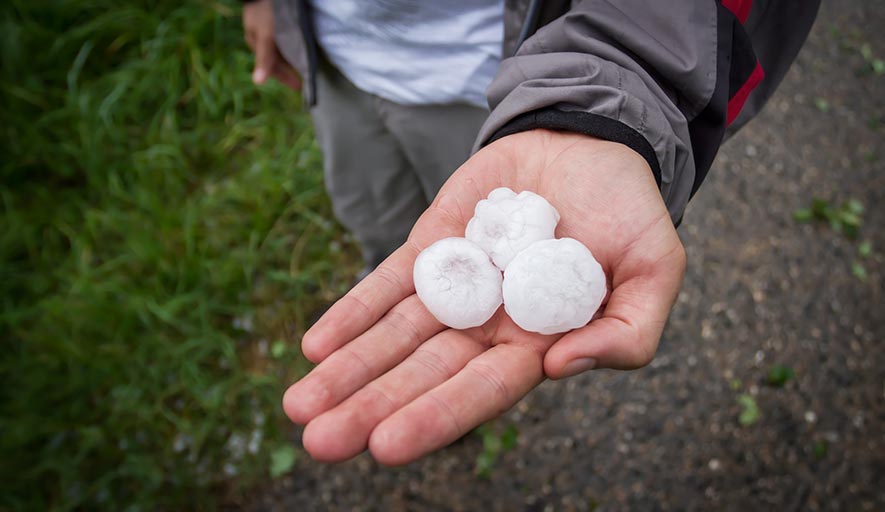 3 Signs Hail Has Impacted Your Roof
Hailstorms can impact your roofing system and then move out of the area, leaving you wondering if any damage occurred. Without a professional roof inspection, it can be difficult to tell whether hail has impacted your roof to the point that it needs a repair. Some of the more common signs that hail has caused damage include:
Dented flashing. Hail damage is most obvious on the metal flashing surrounding vents and chimneys, where it can lead to dents that could compromise the flashing.
Bruised shingles. These are dents or soft areas on asphalt shingles that may be dark in color. If left unrepaired, this type of hail damage can lead to leaks in your home.
Granule loss. Most evident on older shingles, hail can also knock off the protective granule coating on asphalt shingles, leading to faster wear and greater exposure for your roof.
During your complimentary inspection with Christian Brothers Roofing, we will carefully look over every aspect of your roof to be sure that everything is intact following a hailstorm. Should we find any issues, we can give you an on-site estimate for hail damage roof repair services.
Schedule an Inspection Today!
Has a hailstorm recently passed through the area, leaving you concerned about possible damage? Are you seeing signs that hail previously impacted your home? Call Christian Brothers Roofing at (502) 244-0208 to schedule a free estimate and inspection of your roof today. You can also reach us through our online contact form!
We Look Forward To Serving You!